In these early days of the twenty-first century, 1950s baseball is owned by people about the age of B. H. Fairchild, poet of the Midwestern precision artisans, who sharpened their tools in that decade. Ownership carries responsibilities, including an obligation to James William Gilliam, known as Junior,who played mostly second base for the Brooklyn and interloper Dodgers. Mr. Fairchild's unique, lyrical narrative memorializes Junior Gilliam as only Mr. Gilliam deserves.




For Junior Gilliam (1928-1978)

by B.H. Fairchild ©

Published: The Little Magazine (1978)

In the bleak, bleacherless corner
of my rightfield American youth,
I killed time with bubble gum
and baseball cards and read the stats
and saw a sign: your birthday was mine.

And so I dreamed: to rise far
from Kansas skies and fenceless outfields
where flies vanished in the summer sun.
To wake up black in Brooklyn,
to be a Bum and have folks call me Junior
and almost errorless hit .280 every year
and on the field, like you, dance double plays,
make flawless moves, amaze the baseball masses.

You would turn, take the toss from Reese,
lean back and, leaping past the runner's cleats,
wing the ball along a line reeled out
from home and suddenly drawn taut
with a soft pop in Hodges' crablike glove.
And we went wild in Kansas living rooms.

The inning's over. You're in the shadows now.
But summers past you taught us how to play
the pivot (or how to dream of it).
And when one day they put me in at second,
I dropped four easy ones behind your ghost,
who plays a perfect game.



Mr. Gilliam is the soul of what we'd like to remember about the 50s, work ethic, selfless individualism, team play, patience, and self interest. He started poor, played in the Negro Leagues, went to the majors, and hung on by sheer grit to make a career that came to so much more than the sum of its parts. He died suddenly, left memories of skill and endurance, and passed into that dim twilight Yeats bethought for those who've learned, "To troop with those the world's forgot, /And copy their proud steady gaze."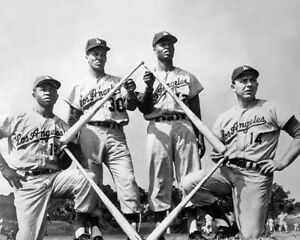 But Mr. Gilliam is far from forgotten. He pops up when people, mostly old men, let the summer recollections of that much derided decade saunter through their memories. Rich Lederer is a little different since it was his father who covered Gilliam, but Rich wound up with Gilliam's glove. Vin Scully watched Gilliam play, and made this testimonial in 2015 at Nashville's renaming of the road in front of First Tennessee Park. When Gilliam died, at age fifty in 1978, he was remembered around the world. Phil Gurnee made this case for Mr. Gilliam in 2010.

On 5/21/15, the Nashville Metro Council authorized the stretch of road in front of First Tennessee Park, home of the Nashville Sounds. On 7/28/15, Sounds owner Frank Ward, Metro Council District 13 representative Erica Gilmore and Nashville Mayor Karl Dean held the official unveiling of the new street sign honoring Junior Gilliam. The official address of First Tennessee Park will forever be known as 19 Junior Gilliam.
Back to the Attic