Fats Navarro was a legendary figure to the tag-end of the Silent Generation in the 50s and 60s, an early disciple of what Cab Calloway had infamously called Diz's "Chinese Music," as in, " We don't want any of it in this band!"
Navarro died young, in 1950, about the time his young 50s admirers were beginning school, and his recordings were hard to find. His legacy has steeped and distilled over the intervening decades, into a solemn brew, but his recordings flash like magic.
"Fats" was the nickname of Theodore Navarro (September 24, 1923-July 6, 1950), germinal jazz trumpeter of the post-classic period. He was a pioneer in the harmonic innovations of bebop during the 1940s, playing with Charlie Parker among many others. To the untutored ear his technique resembles Dizzy Gillespie's, and like Diz, he sounds to have been inspired by genius.
Leif Bo Petersen, and Theo Rehak wrote the definitive biography in 2009, fifty-nine years after his death. It's available in hard cover or eBook, but it's rare and expensive. Several people have written about Mr. Navarro, and his daughter, Linda. Their work is scattered across the Internet, and the Wikipedia entry is excellent.
Navarro developed a heroin addiction, contracted tuberculosis, and gained excessive weight, all of which destroyed his health. He died at age twenty-six, leaving a wife (Rena Clark Navarro, 1927-1975), and a daughter, Linda (1949-2014).
His last performance was with Charlie Parker at Birdland, July 1, 1950. His grave went unmarked for decades.
To hear a sampling of Mr. Navarro's art, click the trumpet title banner above for,
Barry's Bop (1947): Fats Navarro (tp) Charlie Rouse (ts) Tadd Dameron (p) Nelson Boyd (b) Art Blakey (d)
Be Bop Romp(1947): Fats Navarro (tp) Charlie Rouse (ts) Tadd Dameron (p) Nelson Boyd (b) Art Blakey (d)
Fat Girl (1947): Fats Navarro (tp) Leo Parker (as,bar) Tadd Dameron (p) Gene Ramey (b) Denzil Best (d)
Ice Freezes Red (194): Fats Navarro (tp) Leo Parker (as,bar) Tadd Dameron (p) Gene Ramey (b) Denzil Best (d)
Nostalgia (1947): Fats Navarro (tp) Charlie Rouse (ts) Tadd Dameron (p) Nelson Boyd (b) Art Blakey (d)
Linda Navarro, Theodore's daughter, was born with a heroin addiction. She battled it all her life, and with a great deal of success.
Her childhood involved foster care, and an unconventional home life, but she earned a law degree, raised a son, Amilcar, born in 1976, and went on to a successful life of community service. She put her son through college, now a successful photographer, and did heroic work in public service. Nevertheless, her heroin addiction led to arrests, law license suspension, and incarceration, the penalties of an unlucky birth.
An article in the Seattle Times in 1991 brought some instructive commentary from people who knew the Navarro story. The article itself is not available to us, but it is probably similar, perhaps identical, to the one from the same period, linked below, from the LA Times. The comments come from saxophonist, Don Lanphere, and Joy Graybill, see below.
Mr. Navarro died in 1950, and his grave was unmarked until 2002. Linda spent decades raising funds to put a headstone on her father's grave.
Linda passed away August 12, 2014, her death hastened by the debilitations of her birth.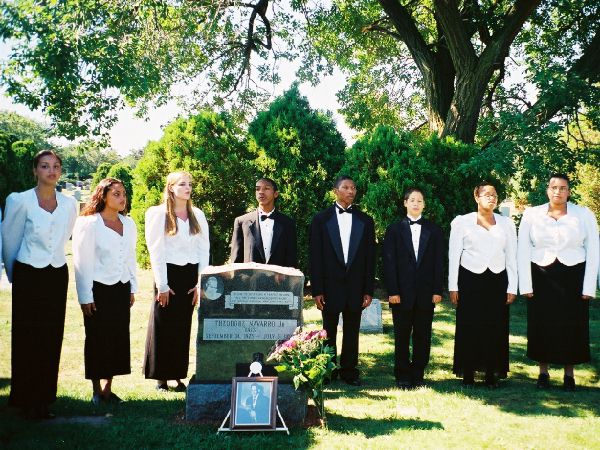 Carls Sandburg's Lyrics from the American Songbag
Those Gambler's Blues
(now known as St. James Infirmary)
Lyrics from "The American Songbag"
by Carl Sandburg (1927)
----------------------------------


Harwood Blog
It was down in old Joe's bar-room,
On a corner by the square,
The drinks were served as usual,
And a goodly crowd was there.

On my left stood Joe McKenny,
His eyes bloodshot and red,
He gazed at the crowd around him,
And these are the words he said:
"As I passed by the old infirmary,
I saw my sweetheart there,
All stretched on a table,
So pale, so cold, so fair.
Sixteen coal-black horses,
All hitched to a rubber-tired hack,
Carried seven girls to the graveyard,
And only six of 'em comin' back.
Oh, when I die, just bury me,
In a box-back coat and hat,
Put a twenty dollar gold piece on my watch chain,
To let the Lord know I'm standin' pat.
Six crap shooters as pall bearers,
Let a chorus girl sing me a song,
With a jazz band on my hearse,
To raise hell as we go along."
And now you've heard my story,
I'll take another shot of booze,
If anybody happens to ask you,
Then I've got those gambler's blues.